What are Medigap Plans
A Medicare Supplement (Medigap) insurance, sold by private companies, can help pay some of the health care costs that Original Medicare doesn't cover, like copayments, coinsurance, and deductibles.
A Medigap policy is different from a Medicare Advantage Plan. Those plans are ways to get Medicare benefits, while a Medigap policy only supplements your Original Medicare benefits and fills in the gaps that Original Medicare has..
Each insurance company decides which Medigap policies it wants to sell, although state laws might affect which ones they offer. Insurance companies that sell Medigap policies:
Don't have to offer every Medigap plan
Must offer Medigap Plan A if they offer any Medigap policy
Must also offer Plan C or Plan F if they offer any plan
Keep in mind, that the Medicare Supplement policies covers co-insurance after you've paid the deductible (unless the Medigap policy also pays the deductible).
There are 10 Medigap Plans to choose from. They're labeled by letters A, B, C, D, F, G, K, L, M, and N (Plans E, H, I, and J are no longer available), and each plan letter has different coverage benefits.
How Do You Get a Medigap Plan?
To qualify for a Medicare Supplement, you must first enroll in Medicare Parts A and B. Once you turn 65 and enroll in Original Medicare, you will enter your Open Enrollment period— the six-month period starting the first day of the month after you turn 65 and have Medicare Part B. During your Medigap Open Enrollment window you can not be asked Health questions , so you can not be declined and also PRE-EXISTING conditions do not factor into the approval process.
What Does It Cost?
Medigap plan monthly premiums differ depending on several factors.
Age
Location
Tobacco use
Plan type (A through N)
Different insurers also vary their monthly rates depending on actuarial models, though many offer discounts to those who live with a spouse.
You do have the option to enroll outside of your Open Enrollment, but acceptance is not guaranteed, and you may have to pass a health underwriting exam. You can learn more about when you can buy Medigap plans here.
Here are the 2020 Deductibles,Copays, and Coinsurance that a Medigap policy can pay:
Medicare Part A: Hospitalization
Days 1-60: 2020 $1,408.00 deductible (billed the first day)
Days 61-90: 2020 $352.00 per day
Days 91-150: 2020 $704.00 per day (60 reserve days)
Days 150+ Not covered
Skilled Nursing Facility Coinsurance:
Days 1-20: $0 per day
Days 21-100: 2020 $176.00 per day
Days 100+ Not covered

Part B deductible per year* only paid for by Plan C and F in 2020 $198.00
Medicare Part B Coinsurance: 20%
Medicare Part B Excess Charges: Up to 15% (in addition to coinsurance)
Foreign Travel Emergency: Not covered
If you have Original Medicare and you buy a Medigap policy, Medicare will pay its share of the Medicare-approved amount for covered health care costs. Your Medigap policy pays its share.
Now review the chart and look at the Percents % in the boxes
What it means is the per cent in the box is the amount the Medigap policy covers. If you don't have a Medicare Supplement, you will pay these costs associated with Original Medicare.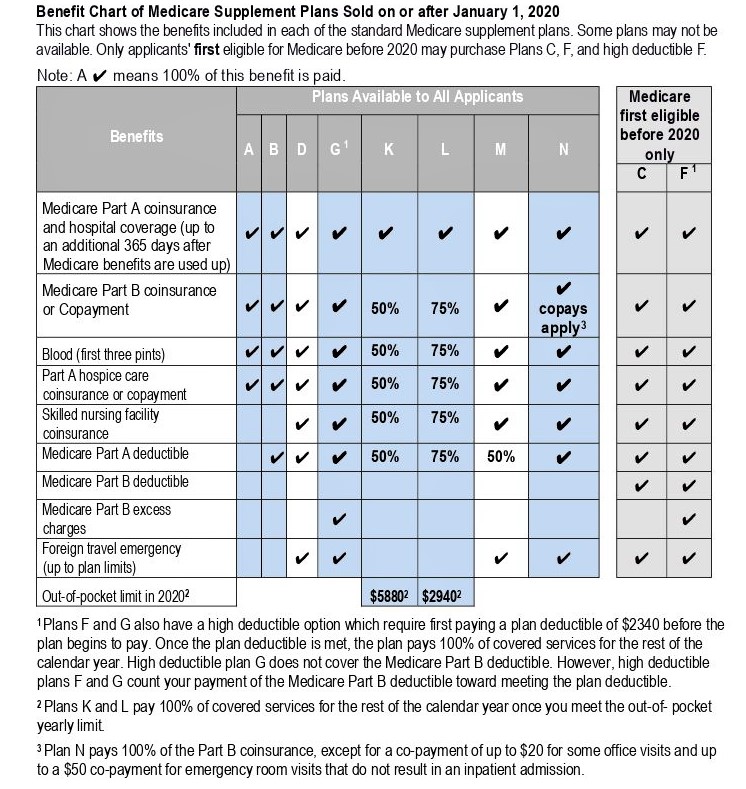 Link to Medigap 2020 from Medicare.gov
Current Version Available
click on the picture...

Comparing Medigap Policies in Las Vegas and the State of Nevada
Comparing Medigap Policies can be quick and Easy. At MedicareinLasVegas we represent many of the companies and can help you sort thru the costs and differences and then enroll you.
Remember there is NO CHARGE for this and the price is the same whether you get your policy from a company or an agent (Its the extra service that we provide that seperates us from the companies and our 30 years of experience versus many other agents). Make us your destination for your Medigap shopping needs.
Additional Information about Medigap Policies sold in the State of Nevada can be found on the State of Nevada Department of Insurance website.
Department of Insurance State of Nevada
Click on the picture below to access this Guide...