MEDICARE OBSERVATION STATUS TOOLKIT
Medicare and Observation Status
STILL A PROBLEM!
READ MORE...
The Issue
Medicare requires beneficiaries to be hospitalized for medically-necessary inpatient hospital care for at least three consecutive days before covering post-hospital care in a skilled nursing care center. Yet, patients often remain under observation status in the hospital for several days. These days are considered outpatient, and therefore, do not count toward Medicare's three-day inpatient stay requirement.
The Effort
The Observation Stays Coalition, consisting of 28 national organizations, has launched an effort to collect stories that put a face on this critical issue that leaves millions at risk of getting stuck with high medical bills –or foregoing needed care – because of their observation status in the hospital.
The Coalition continues to support bipartisan legislation that would count observation stays towards the three-day stay requirement. Senators Sherrod Brown (D-OH), Susan Collins (R-ME), Bill Nelson (D-FL), and Shelley Moore Capito (R-WV) along with Representatives Joe Courtney (D-CT) and Joe Heck (R-NV) have introduced the Improving Access to Medicare Coverage Act of 2015 (S. 843/H.R. 1571) to count all hospital days spent in observation towards the three-day stay requirement.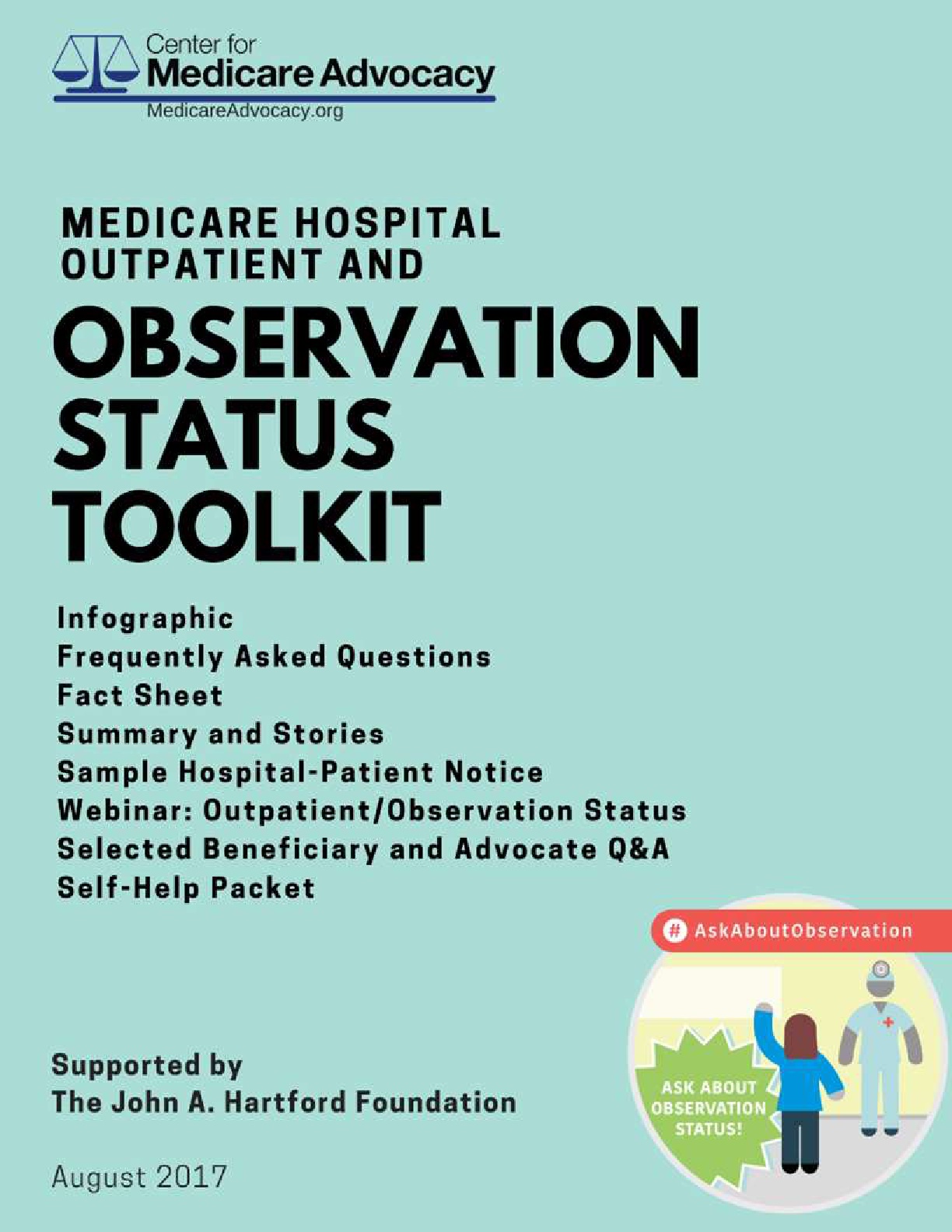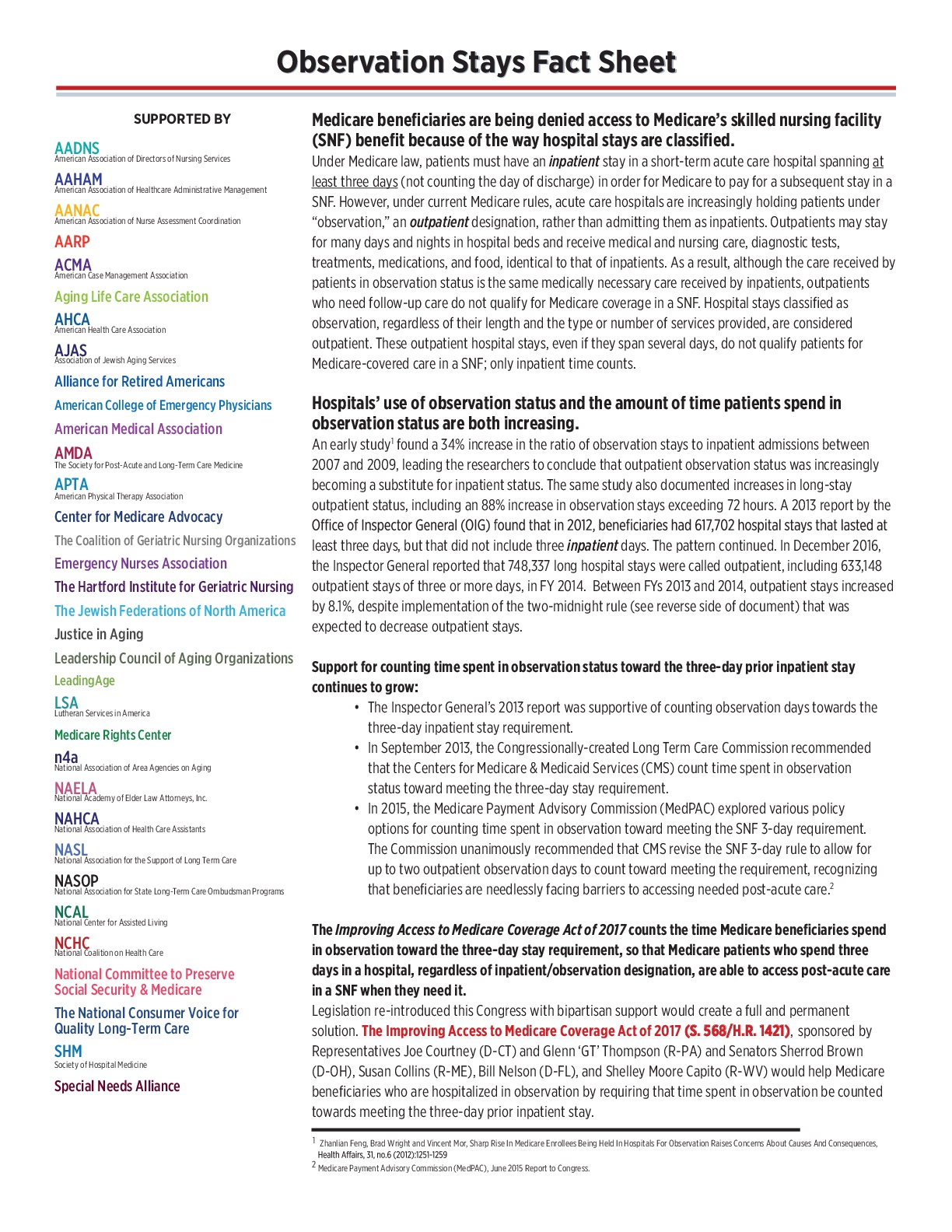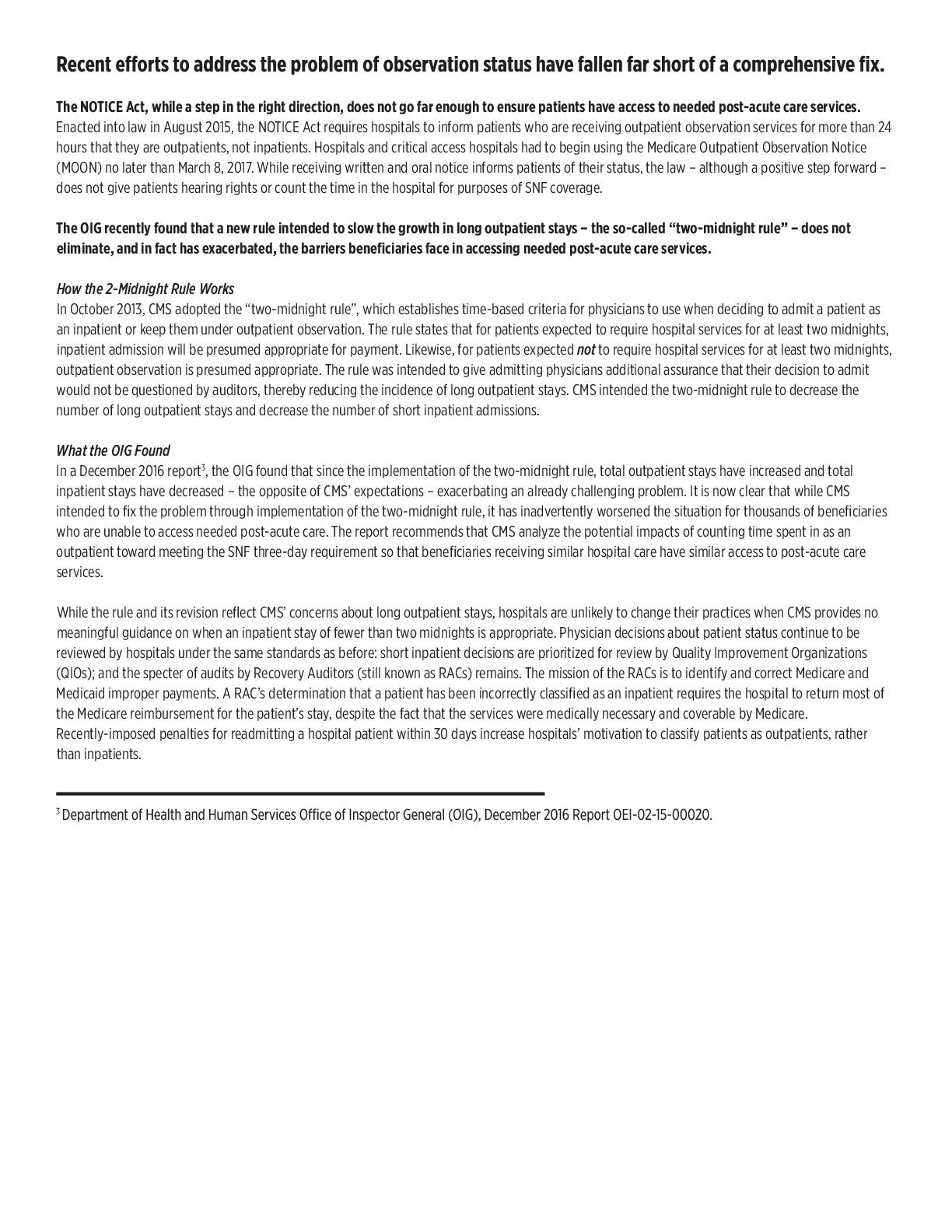 The Center is part of a coalition of organizations fighting the continued harm caused by Observation Status through advocacy and education, efforts which will be greatly enhanced by our work with the John A. Hartford foundation.
In addition, the Center for Medicare Advocacy, along with co-counsel Justice in Aging and Wilson Sonsini Goodrich & Rosati, is pursuing a nationwide class action lawsuit that seeks to establish a way to appeal placement on Observation Status to Medicare (the case is currently known as Alexander v. Price). If you received "observation services" in a hospital since January 1, 2009, you may be a member of the class. No action is required of class members, but we recommend that you save any paperwork relating to your observation status hospitalization and costs that may have resulted from it,
Click on the link to find out more....
OBSERVATION ARTICLE from Medicare Advocacy
Thanks to the Center for Medicare Advocacy for their continued work on this issue. We also must THANK The John Hartford Foundation for the financial assistance they gave them.


Read more on Medicare Observation from John Hartford Foundation

Here's the Article from the Auburn publication...